http://www.prweb.com/releases/2015/09/prweb12984644.htm
Impulse Fiction Announces the Launch of the New Sci-Fi thriller, Home: Interstellar
Amid the violence and political instability caused by severely limited food, water, and habitat, Ray Strong's debut novel, Home: Interstellar, explores life during the Wars of Immigration in the 22nd century. The novel brings these conflicts to life through the eyes of a courageous young woman who struggles to fulfill her duty to find a safe home for her sister and orphaned friends.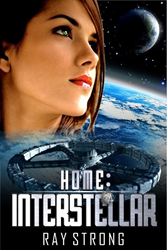 Pleasanton, CA (PRWEB)
September 29, 2015
Home: Interstellar, is set late in the 22nd century, when humans inhabit thousands of colonies and space stations, but limited resources and habitable land challenge what it means to be human. Within this tough galaxy, twenty-two year old Meriel Hope struggles to fulfill her duty to protect her sister and friends who survived the slaughter of their parents in a pirate attack. But Meriel's responsibility puts them all in conflict with a galactic conspiracy that profits from this chaos.
"Hard sci-fi with a heart...complex, compelling tale of galactic intrigue." --Kirkus Reviews
The novel's "complex, compelling tale of galactic intrigue" is felt right from the first scenes, such as: "The cold woke Meriel shivering in the fog of condensed breath. The banging had stopped, and the hold was getting cold—really cold, really fast. The kids had bunched up against each other. They all had their jams on, not warm-suits. They would not last long. They had to move, or they would die."
Impulse Fiction is proud to offer this debut novel from Ray Strong, which is available on Amazon, iTunes, Barnes & Noble, and other major distributors.
About Ray Strong:
Ray Strong went to college to learn how to design space ships and has spent his entire career in high-tech industries. He lives in California with his wife and family. Visit Ray online at
https://www.facebook.com/ray.strong.399
or on Twitter @RayStrong8.
Impulse Fiction